Labels, lines, and shadows have little personality. Their job is largely around identification, location, and quantity.
Visual performance metrics provide insight into the health of a process or value stream by comparing actual performance versus target within the context of people, quality, delivery, and cost.
Andons are dynamic in nature. They visually (and often audibly) signal abnormal conditions and trigger problem-solving...or at least, most immediately, problem containment.
We could go on and on about the various types of visuals and visual management systems. Their job is to be self-explaining, typically worker-managed, self-correcting things that:
inform,
align,
highlight abnormal conditions,
prompt lean behaviors (including adherence), and
spur problem-solving.
It's not often that someone comes up with a visual that one could characterize as dramatic or entertaining.
As far as I know, there are no rules against that! In fact, it can be a good thing relative to attention-getting, imparting a desired message, and fostering certain behavior(s).
A friend and colleague recently captured such a visual on camera while on the road (at least he wasn't driving and texting!). As he stated in the email that had the following picture attached, "[n]o question here on the potential consequences of not following the standard while passing this guy."
I can't agree more. That, and the pun within the visual ain't too bad, either.
What do you think?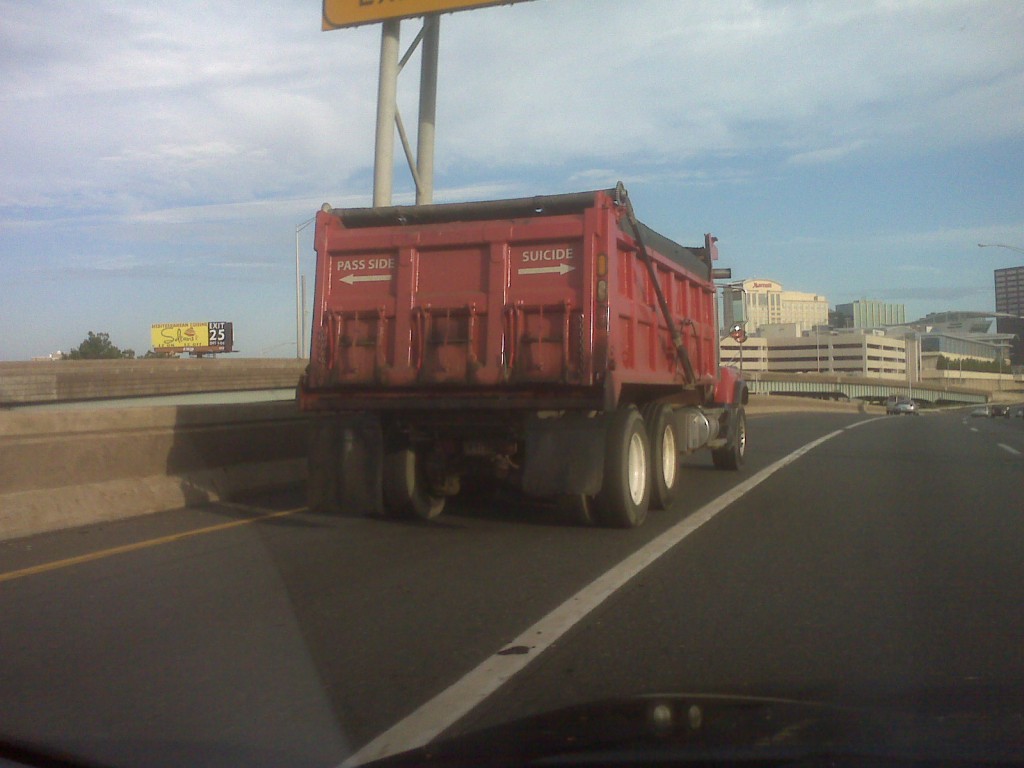 Related posts: Another Classic Lean Question – "Do You See What I See?",  Effective Visual Controls Are Self-Explaining, Airline Carrier's Visual Management – Branding and LOL