In many ways, visual controls are a 24/7 mirror of leadership's competency and credibility.
That's pretty scary if you think about it.
It's like voluntarily living in a fishbowl. Not that everyone truly understands the gravity of that.
It reminds me of the Spider-Man quote (allegedly borrowed from Voltaire or someone before him), "With great power comes great responsibility."
So, with the application of visual controls comes great responsibility.
Effective visuals are a universal, self-explaining, unapologetic proclamation to anyone within eyesight and possession of some basic (lean) thinking, that this here, taken together as a system, is our current process health and level of process adherence and sufficiency. This is the established standard, providing insight into one or more of the what, why, where, when (timing, sequence, conditions), how much, how long, who, with whom, targets, and trends. It necessarily highlights the abnormal condition(s)…and prompts correction.
Of course, a lack of competency is belied by visual controls that are tool-driven. We've all seen the hodge-podge of stuff  - disconnected visuals that are not part of a system and not applied within the context of a lean management system.
Silly "eye candy."
Or the visual that is not, as it's supposed to be, worker-managed…and thus is not maintained, or not maintained consistently, or not maintained properly…and leadership doesn't seem to care.
So, no one cares.
It may be because the visual control is not sufficient. Or it's an adherence issue. Or both.  Or perhaps, when problems are identified, no one knows what to do next.
Problem-solving, anyone?
Either way, it turns out to be a leadership competency AND credibility thing.
Naked, for the world to see.
And, the world judges.
The world, whether it's customers, community, associates, managers, or executives eventually come to a conclusion that lean doesn't work, the company doesn't care, leadership doesn't know what they heck they're doing, the folks don't have any discipline, etc.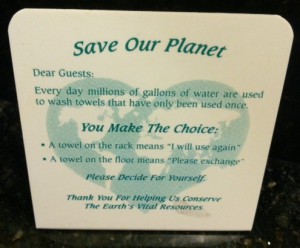 This leads me to the hotel towel thing.
I'm sure most folks who have stayed in a hotel have seen the rather ubiquitous sign or placard that says something about saving the planet. The verbiage, however clunky, seeks to appeal to our sense of social (and environmental) justice.
Yes, washing towels needlessly is MUDA!
So, I always hang them up after each use.
And, about 80% of the time, housekeeping takes the towel away (and presumably washes it)!
So, I judge the hotel and its leadership. They don't care about saving the planet!
Make me cynical.
Not a very lean feeling.
Related posts: Effective Visual Controls Are Self-Explaining, Visual of the Visual?, Ineffective Visual Controls – 9 Root Causes