I never anticipated posting something about scrunchies (you know the decorative pony tail holding device) or quoting Coco Chanel. But, here I am.
Heck, it's Friday, why not share something light about lean?
Truth be told, I LOVE really simple and creative applications of lean. Even better when it's the voluntary work of a relatively new lean convert, like my friend Lisa.
During a recent kaizen activity, I took notice (how could I not, it was visual...AND functional) of Lisa's laptop power cord.
Take a look at the following pictures. Note the visual differentiation of her plugged in cord versus that of others. It can be a drag trying to figure out what plug goes with what laptop. Do I pull this one, or that one, or...?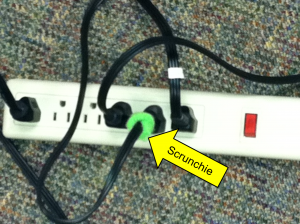 And, then there's the challenge of wrapping up and stowing your power core (and adapter), if you have had the misfortune of losing your velcro strip or rubber band thingy. The scrunchie is an excellent and visually differentiating replacement.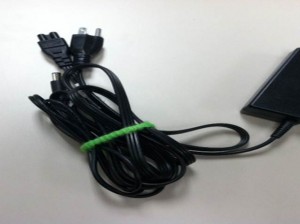 Now I am not saying that the scrunchie is for everyone. I, for one, would feel a bit self-conscious using one (in my insufficient hair or as a power cord accessory), but we can probably all agree with the late French fashion designer, Coco Chanel:
Simplicity is the keynote of all true elegance."
Related posts: Ineffective Visual Controls – 9 Root Causes, Effective Visual Controls Are Self-Explaining