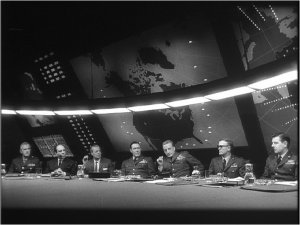 Several weeks ago, a client mentioned that they were planning on establishing a "war room," but did not especially like that name. I suggested "transformation room." It's a little less militaristic (not necessarily a bad thing, but perhaps a little over the top within healthcare) and more descriptive relative to its purpose.
Here are a few things to think about when contemplating a war room.
Purpose. In a nutshell, the war room's primary purpose is to establish and sustain effective organizational focus on the stuff that's required to transform its performance and culture.  The focus must be intense, specific, measurable, actionable, relevant and time-bounded. By definition, it must encompass both PDCA and SDCA, meaning breakthrough improvement, daily kaizen and sustainability.
Audience. The notion of "room" infers that its users are small in number…maybe elite. Well, the war room should be worn out by the executives, but it shouldn't necessarily be an exclusive place (unless a war room is dedicated to working out some especially sensitive issues, like organizational design decisions). In fact, if at all pragmatic, the room should be in a high traffic area. Hence, the "room" for some lean companies has become a "glass wall" – a physical, transparent wall, which sports the information for all to see and demonstrates leadership's competent and credible commitment to the lean transformation.
Contents. What's in the war room? Charts, graphs and solemn statements that drive/share:
clarity in the enterprise's vision, mission and purpose,
the identification and recognition of the current condition,
articulation of the desired future state and the gaps between current and future state,
the execution (and the adjustment, as required) of detailed gap closure plan(s),
safety, quality, delivery, cost, innovation, and morale performance,
countermeasures, their ownership and status, and
recognition of victories, large and small
We're talking about strategy deployment matrices, bowling charts, A3 reports, current and future state value stream maps, value stream improvement plans, top tier performance metrics, posted top leader standard work, task accountability boards, etc.
Context. The war room, by itself, is just a room with lots of paper on the wall. Its value is derived by the structured engagement of the lean leaders in and around that room – the focus, application, execution, learning, and adjustment within frequent strategy deployment checkpoint meetings, daily tiered meetings and the like. The war room represents the top tier within a multi-tiered lean management system.
The war room is clearly more than an interior decorating statement. What's your take on the room?
Related posts: The Post-Value Stream Analysis Hangover, Why Bowling Charts? Trajectory Matters!