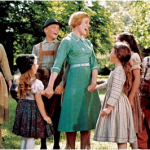 It wasn't quite a Von Trapp family moment, but it certainly was a good lean moment. During a kaizen report-out, an associate was sharing several improvement ideas. You know the form reflecting the problem, action taken, impact and a before and after characterization of the situation? But, her introduction to her portion of the presentation was a little bit different than what I have grown accustomed to.
She started by saying, "This is my favorite improvement..." It resonated with engagement, empowerment and satisfaction. Her preamble grabbed the audience's attention.
She and her teammates had accomplished great things in the areas of productivity, ergonomics, lead time reduction and the like. Along with that, they necessarily addressed a bunch of issues that routinely caused frustration for the workers within the target process. Things that got in the way of performing their tasks successfully.  Things that kept them from feeling like they were winning.
Her favorite improvement? It was one that enabled her and her teammates to quickly identify abnormal conditions and provide the insight necessary to knock down the root cause(s). She was looking forward to something that would further enable continuous improvement, now and in the future!
The plant manager and I chatted a bit after the conclusion of the report-out. Our mutual favorite thing was...the favorite thing. It was a "thing" that reflected much of the core of a kaizen culture.
Related post: Stretch, Don't Break – 5 ways to grow your people