A friend and colleague provided me with this tattoo parlor photo. He was passing by and just couldn't resist the irony of it all.
The lack of permanence around the sign construction makes the whole thing even more entertaining.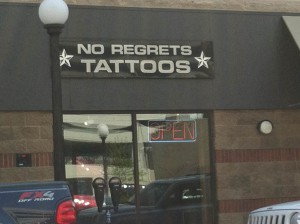 My friend and I share the same passion for lean as well as an often bizarre brand of humor. He thought the photo was blog worthy, although he wasn't quite sure of the exact subject.
Well, I'm not one to waste a good picture.
______________________________________
Lean, by it's very nature, is not permanent. Certainly, if a transformation is not progressing, then it's not transforming.
If it's stagnant, it is decaying.
But, I digress.
I'm no expert on tattoos. In fact, I don't have any.  Although, there were several "near misses" in my younger days.
Other than the stick on variety or henna types, there is very little PDCA around them. Sure there is "plan", which sometimes doesn't get the proper rigor before it quickly turns into "do." Note that tattoo plan and do is best done without the assistance of alcohol and peer pressure.
The "check" part, other than the review of the stencil before the needle, seems to happen largely after the artwork is complete. By then, "act" or "adjust" options are pretty limited.
Lean is a lot more forgiving. Real PDCA, especially within the proper culture, is freeing. Renewable in may ways.
But, as I think through my modest career thus far, I have to ask myself whether I have any lean regrets.
Unlike in the song My Way, my regrets are not too few to mention. So, here are some of my own, along with regrets that I think others should have (based upon my observations over the years).
Bending or compromising on one or more lean principles
Being too rigid on a lean tool and missing the point (a.k.a. the principle)
Not using open-ended questions enough
Making technical changes without corresponding management system changes (i.e., leader standard work)...and seeing improvement gains evaporate over time
Getting into useless arguments about whether folks need to adhere to standard work. Sure we need to understand the why, but following standard work is a condition of employment. End of story. Improve it if the standard work is not sufficient.
Assuming (a.k.a. not validating) that folks understand key lean concepts
Not aligning leadership at the very beginning of the lean transformation
Not acting quickly enough to remove the saboteurs (after a genuine effort to convert them)
Forgetting that people development is as important as business results
Giving someone a fish because it's more expedient than teaching them how to fish
Basing leadership assignments more on technical skills than core competencies/behavioral skills
Not fixing (or at least containing) problems immediately
Prematurely moving from pilot to full scale deployment
Ruminating about stuff while sitting in a conference room rather than going to the gemba and personally conducting direct observations
Short-cutting problem-solving
The list could go on and on and on.
Of course, unlike in a tattoo scenario, we can reflect and adjust. We can turn our regrets, assuming that we can grasp the root cause(s) and apply effective countermeasures, into strengths.
And, in a form of yokoten, we can share our hard-earned learnings, so that others may better avoid some of our mistakes.
What "lean regrets" do you have?
Related posts: Want a Kaizen Culture? Take Your Vitamin C!, Lean Listening, 12 Narrow Lean Gates