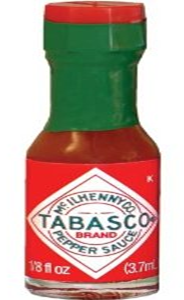 During a recent trip to the great state of Texas, I heard some down-home wisdom, "Before you season your food, why don't you taste it first?"
The person who uttered that question was NOT talking about food. Rather, he was challenging someone who was a little too hell-bent on changing something without truly understanding it.
Sound familiar?
Heck, even etiquette folks will tell you it's rude to season before tasting.
"If you season your food without tasting it, you will convey to the cook that you are already assuming the food will be bland and tasteless. It is more polite to taste food first and then add seasoning if you think it's necessary." (How to Season Food With Table Manners)
But, the point of this post isn't about manners...as important as they are.
It's about standard work.
People are relatively quick to pick up on the notion of kaizen – making things easier, better, faster, and cheaper. Self-induced kaizen is fun, even freeing.
It's better and more fun to give than to receive.
Of course, improvement without standardization is stillborn to say the least.
No doubt, we have heard the Taichii Ohno quote, "Where there is no standard, there can be no kaizen." Standard work implies that there must be adherence. Without it, it's more like a standard wish…as fickle as the wind. We can't sustain improvements and we have little foundation for the next.
However, adherence, especially when "virgin" standard work (you know, that first step from the wild no standard work west days) is introduced, requires folks to often significantly change the way that they do work - new steps, sequences, cycle times, standard WIP, etc.
It can be hard learning a new way. It can be frustrating. It can feel limiting. But, it ensures that people are working to the current one best way…until it is improved again.
So, here's the rub (pun intended).
How long does one need to go before they start adding seasoning?! How long before the standard work should be subject to improvement?
We know the likelihood of any given standard work being perfect is essentially ZERO. It's one reason why we apply SDCA (standardize-do-check-act) – to assess not only adherence, but the sufficiency of standard work.
Improvement should follow.
But, try this scenario on for size. Standard work has been developed during a pilot, regularly subjected to improvement over a period of many weeks. It's been battled tested and has facilitated significant, measurable improvements in productivity and quality. Then, it is introduced to another line or location, with an appropriate application of change management. (Hopefully, this includes the rigor of a net change activity to understand and compensate for any true differences in the adopter's value stream versus the pilot's…)
The next line or location quickly goes from no standard work to adopting the new standard work. It's painful. Within minutes the new adopters think, "I don't like this." It's not "sufficient." It plain old su*ks.
Not long thereafter, the new adopter folks start thinking about seasoning, about "improving" the new standard work. Hey, I tried it for a day, time to exercise my Ohno-given right to kaizen. Almost, an "it's my ball, and I'm going home...with it," type of mentality.
So, here's a question for you – how long should someone taste the new standard work before they are genuinely ready to consider seasoning it?
I've got my thoughts. What are yours?
Related posts: Standard Work Is a Verb, Leader Standard Work Should Be…Work!, Lean Decay Rate