Several weeks ago, I reviewed Dan Markovitz's excellent new book, A Factory of One: Applying Lean Principles to Banish Waste and Improve Your Personal Performance. I also took Dan's work as a call to personal action.
Thus far, I have successfully adopted several of his recommendations in order to boost my marginal in-office productivity. By the way, my "office" also includes the hotel rooms that I too often inhabit.
Well, recently I finally pulled the trigger on a personal kanban. I had been thinking this one through for way too long. It was time to "do."
I purposely limited the application of the kanban to my major distractions - the things that tend to interrupt the (hopefully continuous) flow of my work. Oh, many are the snares of the knowledge worker!
So, here's a description and photo of my fledgling kanban. I "borrowed" some poker chips from my oldest (he's away at college and really knows nothing of this borrowing) to represent authorized daily uses of the things that tend to distract me. The chips fall this way (sorry, couldn't resist):
4 white poker chips for daily email activity (MS Outlook is shut down at all other times) ,
2 blue chips for daily Gemba Tales blog activity,
1 green chip for checking LinkedIn, and
1 red chip for checking Twitter (not a big tweeter).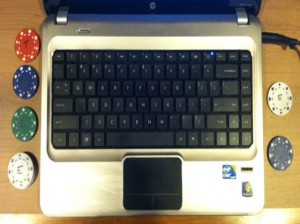 At the beginning of the day, all of the chips are stacked at the left side of my laptop. As I trigger a chip usage, I move that chip to the right side of my laptop, do that activity and then close the application or log off, as required.
This instills a necessary level of discipline and moderation for me.
The chip usage happens around my calendar, my task list (between 10 and 2 minutes of work content per item), and my just-do-its (the stuff that's too small for the task list).
So far, so good. Daily improvement, right?!?
Oh yes, check out the pic below of my fancy travel kit.
Related posts: Book Review: A Factory of One, Kaizen in the Laundry Room…and My Domestic Shortcomings