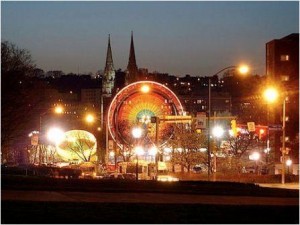 Gemba Tales is proud to host the 126th edition of the Curious Cat Management Improvement Carnival. Curious Cat's founder John Hunter facilitates this sharing of lean thought-provoking posts three times each month.
The lean blogosphere continues to gain more great content from an ever increasing number of lean thinkers. Simply put, there's a ton of great stuff generated by a host of really smart folks.
In order to compile this edition of the Carnival, I visited  many sites. I did not include all of the "big guns" (like Graban, Flinchbaugh, Miller, etc.) - one reason for the Carnival is to expose readers to some lean thinkers that they may not necessarily be familiar with.
I hope you access the links below and find the posts edifying. As you can see, some of the posts are grouped under certain themes. Enjoy.
3 Ways to Help the People of Japan. My friend Ron Pereira encourages folks to make a donation to those in need.
What Are Three Minutes Good for? Dan Markovitz' TimeBack Management post hit me right between the eyes. I'm not a Starbuck's regular, but I do try to cram productivity within even a couple of minutes of "downtime." Perhaps, instead I should be emptying my head (OK, no jokes here)...
Ignore the gemba at your risk:

Garbage in, Wheat and Soy Out? Steve Martin (no, not the banjo playing one!) shows just how silly things can get when we detach ourselves from the reality of the gemba. Heck, we might even believe that Connecticut is a big exporter of corn, wheat, soybean and oil!?
Data and Facts Are Not the Same. Matt Wrye's Beyond Lean blog further echos the necessity of being gemba-based.

Don't put lipstick on the pig:
People and culture:
Related posts: Management Improvement Carnival #99, Blog Carnival Annual Roundup: 2010 – John Shook's Lean Management Column, Blog Carnival Annual Roundup: 2010 – Lean Homebuilding, Blog Carnival Annual Roundup: 2010 – Evolving Excellence