OK, I know that what I'm about to say may sound cynical, but 20 years of personal, hard knock lean experience tells me that this is reality. And most folks I think would, or at least should (I hope), agree with me. The majority of companies pursuing a lean implementation do so superficially. (Did I just hear you yawn?!) Many fail to understand the transformational lean principles, much less have the will to rigorously live them. Lean wannabes are attracted by and then reproduce the easily reproducible "shiny objects" and "eye candy." The objects and candy are the tools and trinkets that are seen in books, seminars, and drive-by benchmark visits (a.k.a. industrial tourism). Lean management systems are chock full of shiny objects – huddle (a.k.a. tier or reflection meeting or metric) boards, leader standardized work, visual process adherence tools, suggestion boards, task accountability boards, etc. But these things are just things. An advertisement that I spied on the backside of a Philadelphia area bus is pretty darn profound…and relevant,
Until you know what it really means, it doesn't mean much.
In other words, just having trinkets doesn't make a lean management system. In fact, a trinket-only system is pure muda. So, what ANIMATES a lean management system? What is its soul? Lean leadership behaviors. Now, I prescribe to the notion that an organization can act its way into a new way of being, as reflected in the figure below.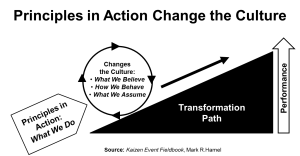 BUT, lean principles in action are initiated, taught, coached, and reinforced by lean leaders largely through their behaviors within the context of the lean management system. What the heck does that mean? Behaviorally speaking:
Instilling discipline. Human systems don't naturally gravitate to discipline and rigor. Effective leaders readily model, promote, and enforce discipline first and foremost by doing their own leader standardized work.
Prompting critical thinking. Critical thinking and lean thinking go hand-in-hand. Most folks, at least initially, are deficient in both. Leaders develop the critical thinking skills of team members by consistently prompting reflection by asking open ended questions and resisting the almost irresistible urge to tell and fix. And, lean thinking is infused, explicitly and implicitly in everything.
Facilitating daily kaizen. Daily kaizen doesn't just happen spontaneously. Most companies have, accidentally and/or purposefully, smothered the kaizen spirit and failed to develop the necessary technical capabilities. Lean leaders constantly coach folks to aggressively identify and acknowledge opportunities (and prioritize them when appropriate), identify root causes, formulate and execute countermeasures, and then follow-through. This is a powerful mix of know-how and behavior that leverages critical thinking, challenge, creativity, and the freedom to fail.
Coaching personal kaizen. Here lean leaders coach folks to apply critical thinking for their own personal development. Coach guided self-reflection yields the identification of personal behavioral and performance gaps and ultimately, the formulation of coachee-owned personal countermeasures with a follow-up plan that the coach can check on. Over time, the coachee should eventually be able to use the same methods to coach others.
This stuff just doesn't magically appear when the huddle boards are populated and hung-up and the first huddle is conducted or when the leaders conduct their standardized work audits, etc. Indeed, that's just wishful thinking. Only proper lean leadership behaviors and technical know-how can animate the accoutrements of the lean management system. And, that can only happen if at least a nucleus of the leaders possess those things to begin with…or who have ready access to one who can coach them. Related posts: Lean Management System: Accountability's Four Questions and Two Tools, 6 Leadership Habits for Effective Tiered Meetings, Why Do You Ask?