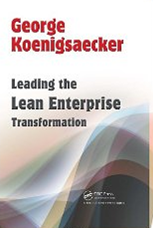 Business travel is a drag. One of the painfully few benefits, if you're flying (and waiting), is that you can catch up on some reading. Recently, I finished reading George Koenigsaecker's Leading the Lean Enterprise Transformation, published by Productivity Press. In my humble opinion, it's a future classic...and it's brief - 162 pages!
This book addresses the number one reason for lean implementation failure - ineffective transformation leadership.
Keonigsaecker is a lean scion. He was there at lean's first American beachhead - as President of Danaher's Jake Brake in Bloomfield, CT. All told he has led 10 or so successful lean conversions as president or group president, including that of Hon Industries. He is the real deal as a lean leader and practitioner and, no surprise, as a profoundly committed student. Trust him.
So, what does Koenigsaecker's book share? Among other things, he discusses:
True North metrics. True North metrics - quality improvement, delivery/lead time/flow improvement, cost/productivity improvement, human development provide the enterprise with a handful of  clear and simple measurable outputs that will help drive meaningful results. Koenigsaecker shares that annual double digit improvements within each of these measurement categories is the norm during an effective lean implementation. Targets should be set accordingly.
Value stream analysis and kaizen events. Value stream analysis (VSA) establishes much of the roadmap for lean implementation.  The importance of VSA, and its power for identifying waste, necessitates heavy lean leader involvement and linkage to True North metrics.  The resultant value stream improvement plan is comprised largely by high impact kaizen events.
Implementation pace and required infrastructure. In order to drive double-digit True North metric performance, the implementation pace must be aggressive and must have sufficient resources to support the transformation. Accordingly, the book explores how to establish the kaizen promotion office, kaizen event effectiveness and lean training for the different levels within the organization.
Governance. Lean transformation leadership or, in George's parlance, "governance" encompasses the application of change management best practices (guiding coalition, communication, dealing with change resistant "antibodies," etc.) and the rigor of strategy deployment and related monthly checkpoints. In order to establish a cadre of effective lean leaders, Koenigsaecker is a convincing proponent of  the mentored lean immersion of executives and senior managers. This recommended (three month) immersion consists largely of kaizen event participation (VSA, standard work, 3P, administrative, etc.) lean business system training and participation in strategy deployment sessions.
Lean culture. Koenigsaecker saves the hardest, most critical and most elusive for last - building a lean culture. He discusses the building blocks of a lean/Toyota culture (serve the customer, seek what's right...regardless, decide carefully, implement quickly, etc.) and the related action plan for achieving that. The action plan includes giving the leadership team personal experience, introducing daily kaizen (about two years AFTER basic lean training and experience through kaizen events) and challenging the team to build (experiential) knowledge.
Leading the Lean Enterprise Transformation is value-added and a must read for every lean leader. It is especially relevant for those who seek to implement sustainable step-function improvement in an enterprise that does not have fourth generation lean leaders (i.e., Toyota)...and that's a pretty big population.
Related post: The Post-Value Stream Analysis Hangover, Why Bowling Charts? Trajectory Matters!