Last month, I had the opportunity to read Daniel Markovitz's new book, A Factory of One: Applying Lean Principles to Banish Waste and Improve Your Personal Performance.  It is published by Productivity Press. My hopefully pithy review is now posted on his book website (where you can also get a FREE chapter):
How can this book NOT be for EVERYONE?! Dan Markovitz has written a truly unique, readable, and actionable book about personal lean. A Factory of One will help the reader reconnect with the value-creating portion of his or her everyday work. Dan's book is a gift to all knowledge workers."
If you don't know Dan, or at least know about him, you should.  He is a personal productivity sage and, admittedly, is a lot smarter than I am (despite attending a rival "Little Ivy" college). Dan is the founder and owner of Time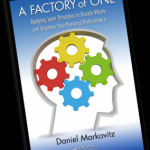 Back Management, faculty member of Lean Enterprise Institute, renowned speaker and now, author.
Often folks rightly believe that book reviewer comments are puffed up things written by someone who may have read the book introduction, if that. The fact is that I read the whole work and covered it with a bunch of notes.
The notes? Well, those were mostly to highlight important passages and personal productivity learnings for myself.
A Factory of One is a "me book." The "me," represents whoever is fortunate enough to read it…and genuinely respond to its challenge to continually engage in personal practice kaizen.
Dan's stated goal of the book is consistent with this notion:
…to help you work more mindfully – to be aware of what you are doing in the moment because you have removed the physical and psychic clutter that dilutes your productivity. The book will teach principles and tools that help you structure how you do your work so that you can identify the best approach – one that helps you get more done, and done better, consistently. You will make the best practice, common practice."
Markovitz's book is 145 pages in length – certainly a quick read. It is comprised of five chapters, along with a brief introduction and conclusion. Each chapter contains real-life illustrative stories (you'll love the one about the $14 million check) and, with the exception of Chapter 5, concludes with "Next Steps" – a pragmatic punch list of activities that support the strategies and tactics discussed within the chapter.
Here's a summary of the chapters:
What's Your Job? Dan begins by challenging the reader to go beyond their job title and get at the essence of their role. This, of course, requires an understanding of value from the perspective of one's "customers." A Factory of One is about enhancing personal productivity around value-added activities, not becoming really, really good at the non-value added stuff. This is not a how to book for "email ninjas." Chapter Next Steps include creating a customer value map and completing a time-tracking log for one week.
Spotting Value, Spotting Waste. Markovitz talks persuasively about "information 5S." Dan has the audacity to claim that the desktop is a workshop and not a storage space! Next Steps include ruthlessly 1S'ing your office, using a 3-tray ("inbox", "outbox," and "reading") system, creating "working," "reference," and "archive" files and electronic folders, etc.
Flow. Yes, this is all about the flow of knowledge work! I have copied Dan's figure of "4Ds workflow" and now have it hanging over my desk. It's a relatively simple reminder to keep things moving. When the "stuff" comes into my inbox (real or virtual), I have got to either: 1) do it (if 30 minutes), or 4) discard it. Of course, it doesn't end there. Once Markovitz gets you to set the table, then it's time to dispel the myth of multi-tasking, and introduce strategies like "worst first," serial tasking, compressing your available time to better identify problems, and level-loading repetitive tasks. Next Steps include applying 4Ds, use of recurring calendar appointments to force you to do the necessary but not favorite tasks first, keeping a notepad next to your computer to record phone calls you need to make and emails you need to send (and thus avoid stopping flow), and scheduling specific time(s) to process email.
Visual Management. Dan challenges the reader who finds comfort in keeping all their working files on their desk - it's a wildly ineffective strategy to combat "out of sight, out of mind." The author introduces personal kanbans and then proceeds to discuss the integrated use of the calendar and task pad, the need for slack in one's schedule, etc. For me, living in my calendar versus my inbox is one of my Achilles heels! Chapter Next Steps call for the movement of all tasks, projects, and ongoing commitments into an electronic calendar and tasks pad (see 4Ds, above). The projects should be visually tracked using a simple personal kanban board.
From Bad to Good, and from Good to Great. This chapter does not have a formal Next Steps section – it's ALL about next steps. The knowledge worker must embrace PDCA and, by definition, standardized work around the if, how, what, when, where, and who of their work. Just applying the first four chapters does not let you off the hook!
Bottom line, buy and apply A Factory of One. It will improve your personal performance!
Related posts: Book Review: How to Do Kaizen, Book Review: Leading the Lean Enterprise Transformation, Undercover Hospital Sensei's Diagnosis – "Healthcare is Broke" [guest post]