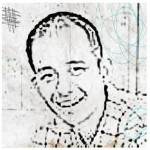 Peter Abilla
This is the second of my two contributing installments for John Hunter's fifth annual review roundup. In this post, I am honored to review Peter Abilla's blog Shmula, a blog about, "business, technology, and stuff in between."
I must admit, I have no idea what a "Shmula" is, be it noun, verb, adverb, obscure lean acronym…
However, I do know that Peter Abilla is a thought leader, speaker, consultant, and professor, among other things. He's got a very refreshing blogging approach, both in perspective and content. Heck, Peter studied math, philosophy, and more. I studied math, theology, and other stuff.
We're practically related!
Truly, Peter is unique. His posts touch upon not only lean manufacturing, but queueing theory, and operations research. He is not your stereotypical ex-ops guy.
Abilla wrote 76 posts during 2012. Here's a quick summary on just a smattering of his work.
OK, so there are 71 more 2012 Shmula posts to check out. I do hope that you visit Peter Abilla's blog.
Please let me know if you figure out what a "Shmula" is.
Also, please see ALL of John Hunter's 2012 Management Blog Carnival activity right here. The lean blogosphere has so much to offer.
Related posts: Management Improvement Carnival #126, Blog Carnival Annual Roundup: 2011 – Steven Spear, Blog Carnival Annual Roundup: 2011 – Lean Blog, Blog Carnival Annual Roundup: 2011 – A Lean Journey, Blog Carnival Annual Roundup: 2012 – Old Lean Dude