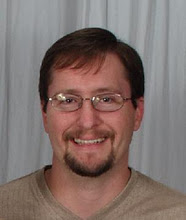 Tim McMahon
This is the second of my three contributing installments to John Hunter's fourth annual review roundup. In this installment, I am honored to review Tim McMahon's A Lean Journey blog.
Tim founded his blog in 2009 and is its primary contributor. We both live in the same geographic area and have shared several animated lunches over the last 18 months. The cuisine each time was Japanese…I know, I know.
Tim is a very talented, patient (he has coached this bumpkin on Twitter basics, for example), and humble person. He readily admits that he is learning, just like all genuine lean folks should. These admirable characteristics, when combined with his diligence, yield a terrific and continuously evolving blog.
Tim's article, Top 10 Posts of 2011 on A Lean Journey, reflects how he published 230 posts last year! During that time his readership has increased tremendously – nearly 79,000 people visited his site in 2011.
This may make Tim the James Brown of lean blogging. Introducing Tim McMahon, the Hardest Working Man in Lean Blogging!
Anyway, before I review a handful of Tim's top 2011 posts, I would like to share some of his blog's regular features:
Lean tips. Tim frequently posts concise tips for the lean practitioner. For example, tip #371 is "Think Before You Speak." The blog's hyperlink will bring the reader to A Lean Journey Facebook page with further explication.
Lean quote. Every Friday (where does he get the time?), Tim posts an article around a particular lean or lean related quote. The November 11th quote was, "Success always starts with failure." So true.
Lean Roundup. Each month, Tim compiles a list of highlighted posts from the lean blogosphere. Sometimes, I am fortunate enough to be included – like in October's Lean Roundup.
Now, here is a brief survey of several of Tim's top 2011 articles:
12 Ways to Start Building a Continuous Improvement Culture. This post shares the slides from Tim and occasional webinar partner (and fellow-blogger at Gotta Go Lean), Jeff Hajek's webinar of the same name. Three of the 12 ways include: plan for 10% improvement time, have the proper attitude towards failure, and don't harvest (all of your) gains. Go to the article to see the other 9 ways contained within the 18 page slide deck.
Ten Ways to Show Respect for People. The Toyota Way is founded on two pillars, continuous improvement and respect for people. Tim shares ten straightforward, but not necessarily easy ways, to show respect for each individual. How can you do it? Keep your promises, be on time, look at people when they talk, let the buck stop with you…
Visual Management Board. This article is primarily about Lantech's Allison Meyer, as she explains within the embedded video how she and her team manage marketing activities using A3's and a related visual board. Maybe, someday, I'll embed a video that's not Monty Python or cartoon related.
The 6 Pillars of 6S – Free Posters. There's nothing like free stuff, especially if it's good. Here Tim provides PDF versions of his company's 6S posters. Why re-invent the wheel?
I hope that you visit Tim McMahon's blog, read his excellent content, and participate in his ever-growing community.

Also, please check out ALL of John Hunter's 2011 Management Blog Carnival activity right here!
Related posts: Blog Carnival Annual Roundup: 2011 – Lean Blog, Management Improvement Carnival #126, Blog Carnival Annual Roundup: 2010 – John Shook's Lean Management Column, Blog Carnival Annual Roundup: 2010 – Lean Homebuilding, Blog Carnival Annual Roundup: 2010 – Evolving Excellence