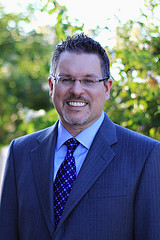 Mark Graban
This is the first of my three contributing installments to John Hunter's fourth annual review roundup. In this installment, I am honored to review Mark Graban's Lean Blog, a "blog about Lean in hospitals, business, and our world."
Mark founded Lean Blog in January 2005, and is its lead blogger and podcaster. (By the way, back in 2005, I couldn't even spell the word "blog."  Of course, as I often prove, there are a lot of words that I can't spell properly.)
When I think lean blogger, the first person that enters my mind is Mark Graban. Quite frankly, Mark is a prodigious blogger. He generates an amazing quantity of unique, entertaining, thought-leading and thought-provoking material.
Accordingly, my simple roundup entry cannot do this lean social media giant justice. Fortunately, if you desire a MUCH better and more comprehensive collection of the best of Lean Blog 2011, Mark Graban has an answer…
True to his pioneering nature, Mark is offering an eBook of 2011 Lean Blog posts. It is a compilation of many of his best posts…using a unique "Lean Publishing" technique.
In any event, here is my measly sample of excellent 2011 Lean Blog articles:
I hope that you visit Mark Graban's blog, sample the lean social media smorgasbord, and participate in the amazing community that is the Lean Blog.

Also, please check out ALL of John Hunter's 2011 Management Blog Carnival activity right here!
Related posts: Management Improvement Carnival #126, Blog Carnival Annual Roundup: 2010 – John Shook's Lean Management Column, Blog Carnival Annual Roundup: 2010 – Lean Homebuilding, Blog Carnival Annual Roundup: 2010 – Evolving Excellence