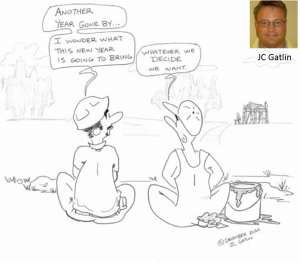 This is the second of my three installments as part of John Hunter's review roundup. John has hosted his annual blog review for three years now.  In this installment, I am fortunate enough to review the Lean Homebuilding blog authored AND illustrated (see left for an example), by JC Gatlin.
My first introduction to lean homebuilding was the Doyle Wilson case study within the lean classic, Lean Thinking. The external sensei who helped coach Doyle Wilson was none other than a close colleague of mine, Jim Cutler. JC Gatlin plumbs (no pun intended!) new lean homebuilding depths through his creative, entertaining and edifying blog...and his own cartoons are awesome. Unofficially, JC has got to be the preeminent lean cartoonist.
Here are a few of JC Gatlin's articles from 2010:
Please visit the Lean Homebuilding blog, read the articles, enjoy the original cartoons and comment on the posts.  JC Gatlin regularly shows how lean principles, systems and tools transcend industry boundaries.
Related post:  Blog Carnival Annual Roundup: 2010 – Evolving Excellence, Management Improvement Carnival #99