I just contributed a guest post of the same title to Christian Paulsen's Lean Leadership blog. Please visit his site to read my full post and to take in some of Chris' excellent lean content. Chris shared some of his insight with us a while back in his Gemba Tales guest post, 5 Reasons You Need to Do a DMAIC.
______________________________________

Recently, Mercedes Benz introduced a new brand claim. You may have seen it on TV or in print. It uses a direct quote from founding father Gottlieb Daimler, "The best or nothing."
It sounds cool. Not that I'm ready to shell out a boat-load of money for a sexy new car. But, it clearly gets across that the Mercedes guys are uncompromising.
As a top executive from Mercedes Benz put it, "For us, [it] means we want to deliver the very best in all areas – be that in research and development, production, sales, service and aftermarket business or in purchasing."
I have a hard time arguing with that. I know what they mean. It's a powerful and noble principle.
And yet, the words grate on my (hopefully) lean thinking mind.
...The figure below summarizes much of my thinking on this subject, while my full post can be found here.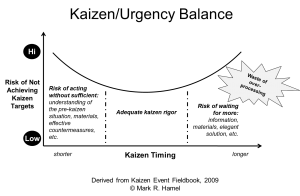 click to enlarge
  Other Hamel guest posts: "Do" Only Gets You Half the Way There, or…"No Pie for You!" (on Mark Graban's Lean Blog), Subsidiarity: A (Medieval) Lean Principle (on Ron Pereira's LSS Academy Blog)