Actual Takt Time (Tat)
Actual takt time (Tat), as the name suggests, is different than takt time (Tt). In fact, Tat is really more of "planned" Tt, with the planning or management around its numerator, available time (Ta).
To explain - both the Tt numerator and denominator are predicated on the same period of time. For example, Ta and customer demand are typically both pegged for a standard shift or day. However, sometimes Ta  must/should be adjusted due to practical things like crew availability and significant changes in demand. In such situations, rather than being a standard shift, Ta may be a fraction of a shift or reflect an extended shift (overtime).
Therefore, the Tat formula looks like the traditional Tt formula with an adjustment to the numerator: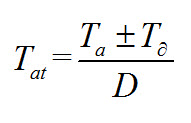 Where:
Ta= available time for the period, typically a shift or day
T = management determined adjustment to either reduce or extend Ta
D = demand for the period, typically a shift or a day
Example:
Using the same data from the Tt entry, Ta is 450 minutes per day (or 27,000 seconds) over a single shift. Ultra product cell's daily demand, D is 300 units. This yields a Tt of 90 seconds.
However, the company has recently experienced a temporary increase in seasonal demand for another product. One option is to reallocate Ultra product cell operators to another (temporary) cell for 2 hours (7,200 seconds) each day for the next two weeks. This would require an adjustment to Ultra cell's Ta and the calculation of a Tat. [Leadership and the team will probably have to apply some kaizen to satisfy the Actual Tt,if they choose to go that way.]