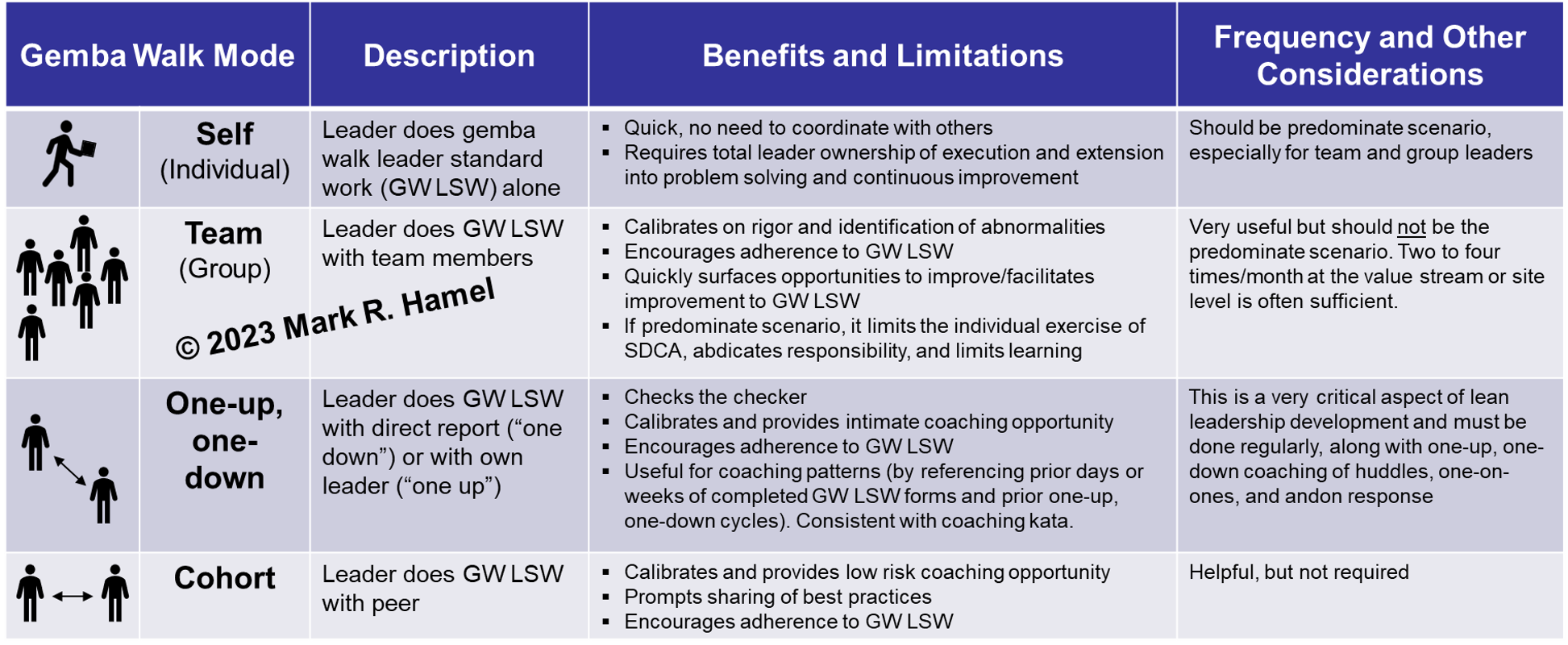 With all due respect to Johnny Cash and his song, "You'll Never Walk Alone," most of the time, you SHOULD walk alone…at least when executing your gemba walk leader standard work.
I know that sounds anti-social and in direct contradiction to the sentiments of teamwork and coaching, but it's not. Let me explain.
The figure at the top reflects four basic gemba walk modes, covering both accompanied and unaccompanied versions. All modes here presume that there is a sufficiently defined set of gemba walk leader standard work, specifying, for each leader (the who), things like:
When. The frequency and timing of the walks,
Where and What. The targets that the leader will directly observe/check as aided by good visual process adherence controls (i.e., standard work combination sheets, heijunka boxes, and marked FIFO lanes), 
Why. Conditions and behaviors that the leader is trying to confirm. For example, the operator is following the right steps, in the right sequence, in the right cycle time, with the right standard WIP. And,
So what. A way to capture the fact that the leader conducted the observation, determined whether the observed condition was normal or abnormal, and if there was an abnormality, the applied or planned countermeasure. 
As outlined in my prior post, "Gemba Walk with Purpose," there are four purposes of gemba walks: 1) go and see for yourself, 2) confirmation of existence, adherence, and sufficiency (these are all part of the "check" within SDCA: standardize-do-check-act), 3) problem solving and continuous improvement, and 4) coaching. Each of the four modes satisfies the first and second purposes and at least position or prepares the leader to conduct or facilitate the latter two.
So, let's briefly discuss the four gemba walk modes.
Self. Solo is the predominant gemba walk mode. It requires no coordination with "co-walkers" and it's all on the leader to respectfully execute the leader standard work, make judgments on normal vs abnormal, determine root cause as best they can, formulate appropriate countermeasures, and engage and coach folks. The forensic evidence reflected in a completed gemba walk form serves as an input into the coaching cycle, especially in mode #3.

Team. The group walk is an excellent means for calibrating leadership team members around: 1) gemba walk leader standard work rigor, 2) abnormality identification/sensitivity, and 3) follow up technique, urgency, and coaching delivery. The group gemba's effectiveness is enhanced with a post-walk reflection within which the leadership team can identify and address recurring themes (i.e., many folks are not following standard work) and flag leader standard work improvement opportunities (aka SDCA on the SDCA). 

So, group is great, right? Yes, if done right and sparingly. No, if done poorly and overused to the detriment of the other three modes. 

What does a bad group gemba look like? Often, it's a tortuously long and undisciplined walk, without articulated desired outcomes, and some members bunching and lagging. Picture a group of semi-supervised third graders on a school fieldtrip through a museum. 

Once the gaggle exceeds more than three or so folks, it gets mighty hard to remain in contact with each other and see and hear the same things at the same time. This facilitates wandering and social loafing ("Hey, George how's the family? Ya, I'm on one of those gemba walks. Don't worry, I'll catch up to them in a bit…"). Now there are ways to address these challenges, but that's for another post.  

One-up, one-down. This mode is principally for coaching and reflects the leader's leader/coach (the "one-up") walking with the leader/coachee (the "one-down"). Here the coach typically observes the coachee execute the leader standard work. Other inputs include copies of past gemba walk leader standard work forms and prior observation experiences, both of which are helpful to discern behavior patterns. The coaching, usually provided at the conclusion of the walk, is oriented towards coachee awareness, coachee-chosen behavior modification, and follow-up on prior coaching cycles to best achieve the four gemba walk purposes mentioned above. Some time in the future, we can explore coaching techniques.
Cohort. The cohort mode applies peer-to-peer coaching. It is a less intensive and usually less effective version of mode #3, but it can still be very worthwhile for both the coachee and the coach and it's perhaps less stressful for the coachee. 
That's a VERY quick spin through the subject of gemba walk modes. 
Assuming you have some minimum viable gemba walk leader standard work and a visually controlled environment, whom do you walk with and why?